DEVELOPMENT GOALS
PHASE A (15 000 PI²)
Renovation of existing conditions, air quality management and electrical distribution within the common workshops and the twenty or so existing private spaces.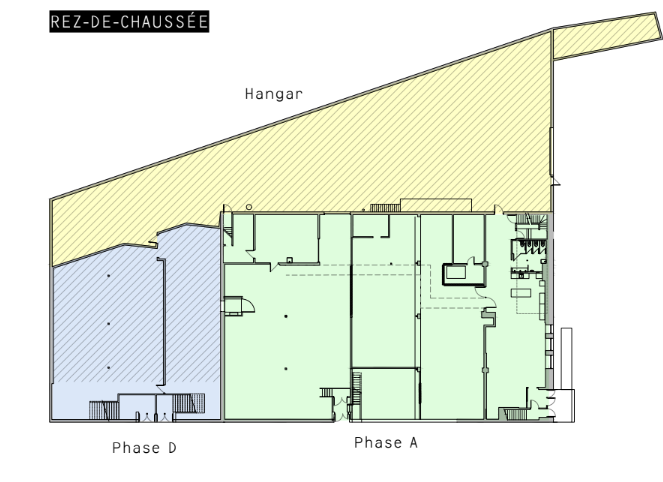 10,000 PI² COMMON WORKSHOPS: Wood, Metal, Screen Printing, Sewing, Electronics, 3D Printing, Ceramics and Bike Mechanics
1 000 PI² STORAGE
3 000 PI² WORKSHOPS
PHASE B (+ 5 400 PI²)
Development of approximately 20 additional rental spaces, several shared studios and storage spaces adjacent to the shared studios (support for the production of professional work within the shared studios).
2,100 PI² COMMON WORKSHOPS
2,500 PI² PRIVATE WORKSHOPS
1,000 PI² STORAGE
2,100 PI² COMMON WORKSHOPS: Glass work, Ceramics, Cold glass, Thermoforming, Torch work, Jewellery, Film photography, Recording studio, Digital printing, etc.
PHASE C (+4 800 PI²)
Development of approximately 30 additional rental spaces. The use of this space will allow artists to establish their individual practice.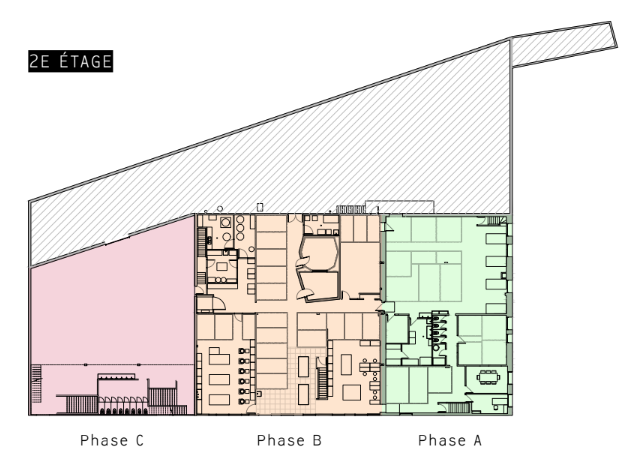 4,800 PI² PRIVATE WORKSHOPS + PROJECT SPACE
PHASE D (+4 800 PI²)
Establishment of a space for the dissemination and production of large-scale projects. A space of more than 4,800 pi² with a clear height of 16 pi. The use of this space will be shared between
special events, private rental spaces (for a fixed period) and project spaces (for short and medium periods). The goal is to allow for the production and assembly of large-scale projects as well as outreach events that support community initiatives.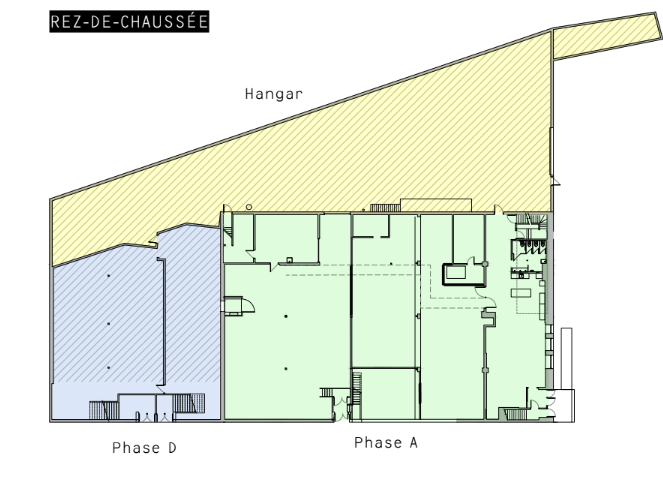 4,800 PI² DISPLAY SPACE: Special events, Private rental spaces, Special projects
HANGAR (+10 000 PI²)
The Hangar portion of the building is being considered for renovation to provide a mixed-use manufacturing space and a community greenhouse. Several eco-energy innovation projects (rainwater harvesting and energy management) are being considered in this phase.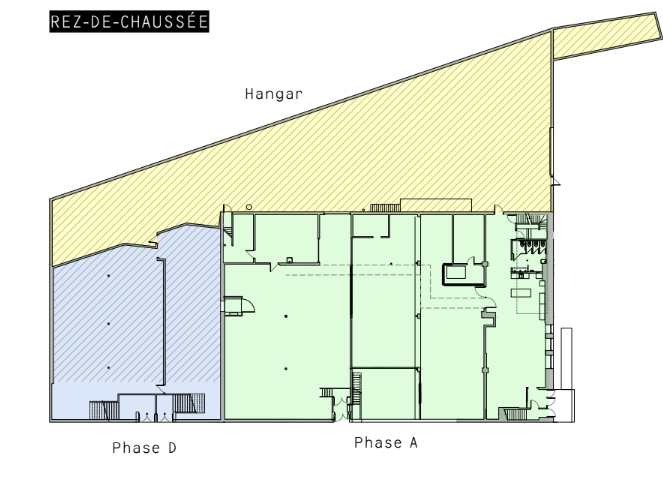 6 000 PI² MIXED WORKSHOP : Glass, Forge, Auto mechanics
4 000 PI² COMMUNITY GREENHOUSE
OUTDOOR SPACES (+12,000 FT²)
Creation of a meeting garden and a place for artistic expression (exhibitions, shows, workshops, etc.)
12,000 PI² MEETING GARDENS + OUTDOOR AMPHITHEATER
LAYOUT PLANS